We have originals by notable artists available for purchase. We also have giclee collections by artists Gary Lynn Roberts, C.M. Dudash and Brent Cotton available. Giclees come in many sizes and with a few choices to personalize your art puchase.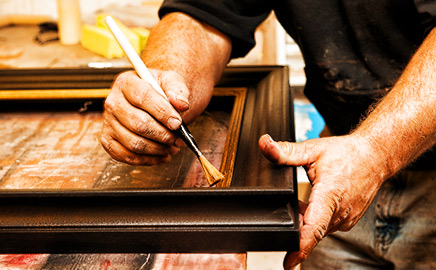 Custom Frames
At Bitterroot Frames, we have worked with many artists to perfect an individual style of craftmanship. The style and finish of each frame we build is specifically intended to compliment the work of art it surrounds. We are very privileged to work with, and for, artists who have had a hand in our evolution. We fully understand how important each client is to our future and it is our goal to establish each customer and artist as our friend!
-Zach Cheethem (GM)
.
.
.
The more we build,
the further we go.

Check out the Montana Miniatures tab to find one of the hidden treasures still available.
"I'm very impressed by the quality of Bitterroot Frames, they take obvious pride in crafting quality frames at an affordable price. I really like the solid construction, quality finishes, and their willingness to do custom work. I feel their frames really compliment my paintings well and I look forward to using them for years to come."
BRENT COTTON
A Few of our Artist Friends:
Julie Chapman
"I suspect most animal artists would affirm the excitement of doing fieldwork, observing wildlife and sharing that joy through our art is a deeply held passion."
Troy Collins
Painting with abandon and freedom, Troy Collins seemingly has the world captured and eagerly waiting to become one of his beautifully-crafted works of art.
Todd Connor
Connor makes it his business to walk the land and float the rivers of the characters in his paintings and to paint on location as much as possible to get the sense of place.
Brent Cotton
"I'm inspired by mood and drama, the fleeting effects of light. I hope my paintings bring a sense of peace to the viewer, perhaps conjure up a memory. My goal is to show God's glory in my work, he's blessed me so richly and I'm so fortunate to be making a living doing what I love."
Jerry Crandall
Jerry Crandell's special love of history, fascination for the artifacts and honest dedication to research, bring reality into each of his paintings.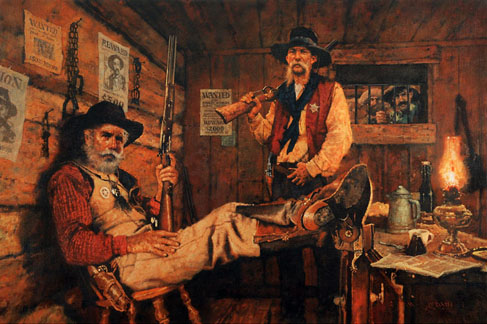 C.M. Dudash
Michael has become nationally known for his remarkable paintings of the American Frontier. His ability to weave together a vast array of western characters and beautiful landscapes into timeless stories has made his work highly sought after by fans and collectors of western art.
Jennifer Johnson
"When I'm painting on location, usually in the mountains, I can take a deep breath and listen to the environment around me. I paint what I see but feel it is more than just painting, I'm trying to capture the moment and why I was drawn to it."
Joe Kronenberg
"I feel very blessed to be able to paint both Wildlife and Western Art. Two subjects I can't get enough of. "
Krystii Melaine
Krystii Melaine is a figurative and portrait artist, currently exploring the lives of the people of the American West – Native Americans, cowboys, and the early settlers.
Gary Lynn Roberts
"I've been blessed and highly favored by the gifts God has given me: a truly supportive family, my talent as an artist, and this beautiful country in which to live."
Brooke Wetzel
"Doing what I love doing seems natural and I feel that my best expressions are painted."
Steve Wilson
"My desire is that through my work, I can speak to others in a way that my words could never express."
"It has been a great experience working with Bitterroot Frames as they have been "getting off the ground" in the past year. All of the frames they have created for me have been top notch! The service they are providing in the area of allowing me to be a part of designing my own personal "look" is also a big plus. The fact that they can do quick turnarounds on orders always comes in handy. They are well on the way to becoming my main supplier of custom high end frames."
MICHAEL DUDASH